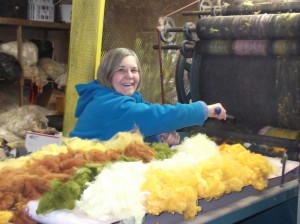 Our mill produces a wide variety of wool blend rovings for hand spinning. We primarily use a three way blend of alpaca; a short wool such as Cormo, Polypay, or Corriedale; and a long wool such as Borderleister, Tunis, or BFL (Blue Faced Leister). Many of our rovings contain from 25% to 40% alpaca. Some may have silk, cotton or "exotic" animal fiber such as camel, dog or Angora added too. The result is roving and/or pre-felts that are easy to felt or spin into yarn, and a dream to wear when knitted, felted, or woven. Check for specific fiber content by clicking on the photo of the color roving you're interested in. You know how people always say they can't wear wool because it's scratchy? Not ours!
All our fibers are washed, hand-dyed, blended, and then carded into rovings, using no harsh chemicals. Since each lot is hand crafted, there may be slight variations in color.
We recommend you order 4 oz. more fiber than what you expect to use in order to ensure consistency of color and blend in your finished product. This also helps to protect you from not having enough to finish a project, and then having the disappointment of not being able to order the same dye lot again. Unless otherwise noted, all rovings are sold in 4 oz. balls.
Click on the images below to see some of our current offerings.  Remember though, we have many more rovings in stock! Please feel free to contact us with colors and/or fibers you would like. We'll send you an email of photos that might suit your needs.