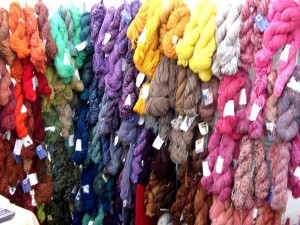 We have hundreds of skeins of yarn on hand, most in small lots.  Experience has taught us that it is impractical to even attempt listing them all and then trying to keep the listings all current.  Instead, we ask our customers to contact us with specific inquiries.  We can then send pictures of what we have in stock that may meet that specific need.
Hand Spun Yarn:  the majority of our yarn offerings are hand spun from our own roving by Amy and a few of her friends.   Each is labeled with fiber content, weight and yardage.  Since these are all spun from our own roving, if you see a roving you like it's likely we'll also have some yarn from the same batch.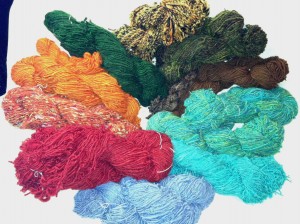 Ecuadorian Handspun:  We brought back over 50 lbs of handspun yarn from Ecuador.  We are currently in the process of organizing, dyeing and winding it into skeins   Some of it is 100% wool, some is a blend of wool & synthetic.  Check back soon for more detals and pictures.
Machine spun, hand dyed:  We also offer a limited amount of machine spun yarn.   After it arrives in our mill, Amy hand dyes it in a rainbow of colors.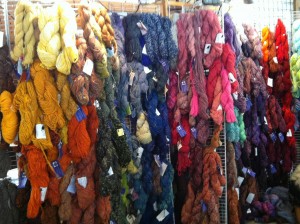 Below  are just a few of the high quality hand spun and hand dyed yarns that we currently have in our inventory.
Please e-mail us at amy@woolmill.com for additional offerings.